Meet Bob, Bob owns and runs a blog about fishing. It's pretty much the best blog because "Bob" thinks he's the best at fishing. Bob has a lot of blogging friends, and had recently starting sharing his blog posts to Blog Engage, it's a cool social networking community specifically for bloggers, and only bloggers.
Bob decided to join Affiliate Lights. "an affiliate program created by the owner of Blog Engage" Bob joined so he can try to earn some passive income from referring his blogging friends to Blog Engage. Bob feels good about this because heck, Bob loves Blog Engage and so will his friends!
When Bob gets a new sign up he gets %50 of that sale! Even cooler; Bob gets %50 of that sale every month his referral remains a customer! Bob is over the moon excited because he wants to make passive recurring income from his blog. Bob has come up with a full proof plan where with a little hard work he can ensure all his referrals will be happy, just like Bob is happy using Blog Engage.

Check Your Statistics
One of Bobs most enjoyable features of Affiliate Lights is being able to track clicks and traffic daily, Bob really loves analytics so this is pretty exciting for Bob. I'm not sure how much time Bob spends here but I'm gathering it's lot of time!
Affiliate Dashboard View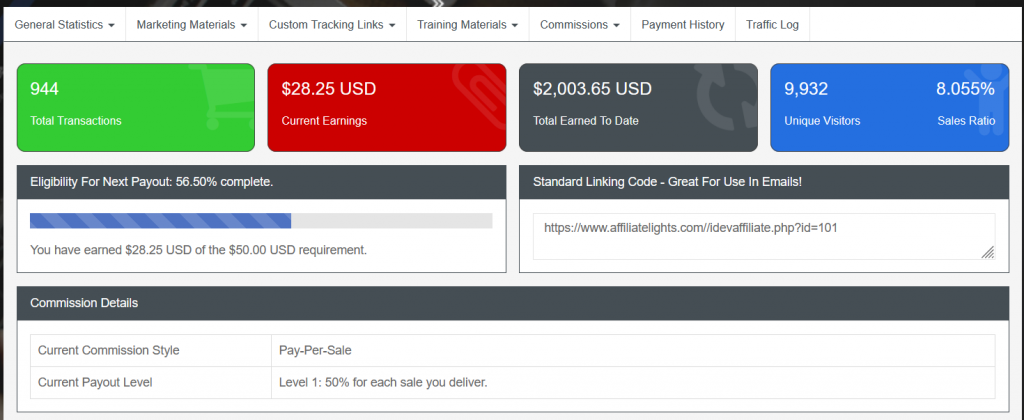 Daily Traffic Logs

$10 Sign up Bonus
Everyone is welcomed to join the Blog Engage Affiliate Program, it's free to join and if you ask Bob, he would make sure to remind you, $10.00 is given as a bonus on sign up. That's right, you heard Bob right, when you sign up you get a $10 bonus to start you off in the right direction.