Creating sales for your blog requires you to find and funnel targeted blog traffic back to your own blog! Twitter has become a valuable tool for sales of products and services. Twitter is undeniably a rich market of potential customers waiting to buy from us.
Thankfully Hootsuite allows us to easily track and monitor key hashtags specific to our desired audience, in my case for Blog Engage I would be tracking shared content specific to the following.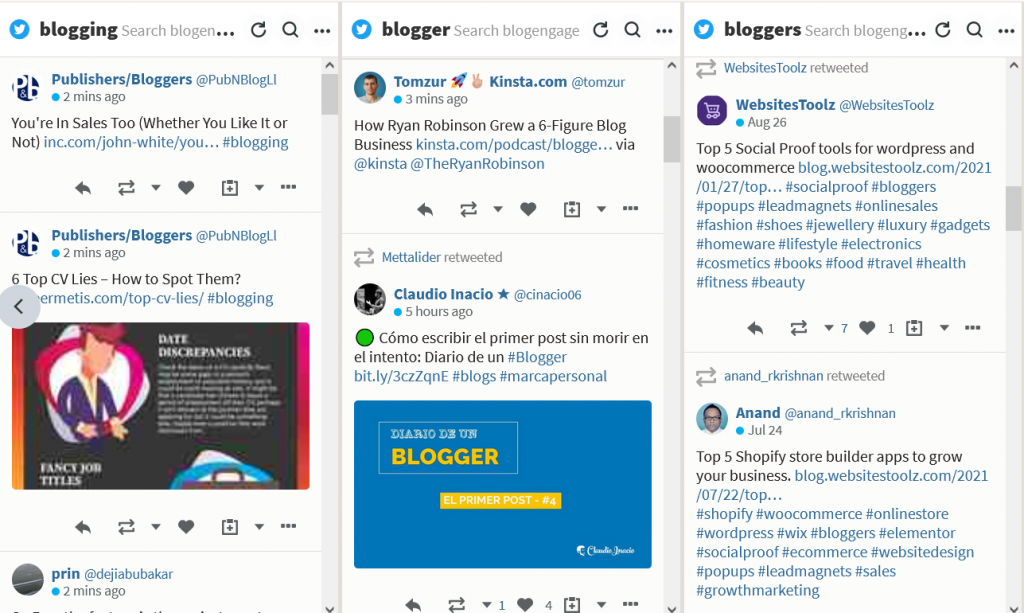 Follow the Links
What I do with the above streams is follow the links to engage and meet a new prospects for myself. My goal is to visit the site with one purpose in mind, take an action that directly results in the author following me back to Blog Engage. The method is not full proof, finding blogs that are worth commenting on can be difficult, I want our community base to remain a specific level of quality regarding customer content.
It's Time To Engage
Once we find a site worth spending our time on we engage by leaving a comment, creating the start of what can potentially become a sale. The comment is an important step in the sales process. Leaving a genuine well written engaging comment will increase the chance of the author visiting your blog. If we cannot lure the content creator from our comment then we will have to try another comment and perhaps some social engagement, tweets, likes, shares!
This process is continued daily and never stops. Sales never stop and for that reason we continue to search out and meet new prospects. Target your Hootsuite streams for your specific audience niche and start engaging potentially new customers today.