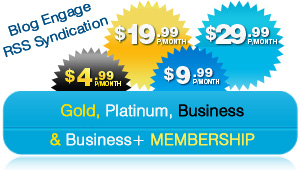 Do you have a game plan for your business? If not, you might want to head over to Easther Sudharta's site and see what she's got to say. This brilliant young woman has spent her entire life working toward being her own boss, and wants to help others get there too. And one of the ways to achieve this is by driving traffic to your site. So how is she going to help you do this? She's holding a contest on her blog and giving one lucky winner a full year's worth of free syndication with Blog Engage.
Here's how it's going to work. Throughout the month of October, everyone who's registered on her site and leaves a VALID comment will have a shot at winning the prize. Those who leave comments must have a Gravitar image and must use their real first name with their comments. The person who leaves the most viable comments at the end of the month wins. Spammy comments and those that don't have a Gravitar image will be rejected.
So what's up for grabs? Easther is giving away a free Blog Engage account (a $29.99 value) and a full year's Gold Membership (a $59.88 value) to one lucky person. That means the winner will get one feed of their choosing syndicated to 7 different sites, all PR2 or higher. Plus you'll get to choose one niche category for your site, 100% of the Adsense revenue, and a free copy of the e-book "SEO Marketing For Blogging".
If you're serious about taking your future into your own hands, you've got to check out Easther's site. And if you want to drive traffic to your site like never before, get in on her contest and see if you can't end up winning yourself a full year's worth of free syndication with Blog Engage.
Be sure to add me as a friend, bbrian017
Twitter, bbrian017
My name is Brian and I'm a Graduate of Business Administration Marketing. I work full time in Sales and Marketing. I am also the owner of Blog Engage a social network I created specifically for bloggers.