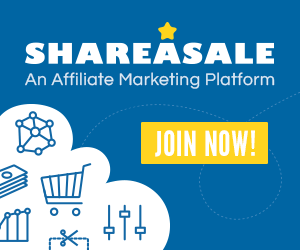 Running an online course business can be overwhelming.
Not only do you need to spend serious time creating your content, but you also have to deal with website creation, marketing, and student relations — all of which can be complicated and taxing on resources.
That is why, as an aspiring online course business owner, you need to have an air-tight eLearning platform to house your business.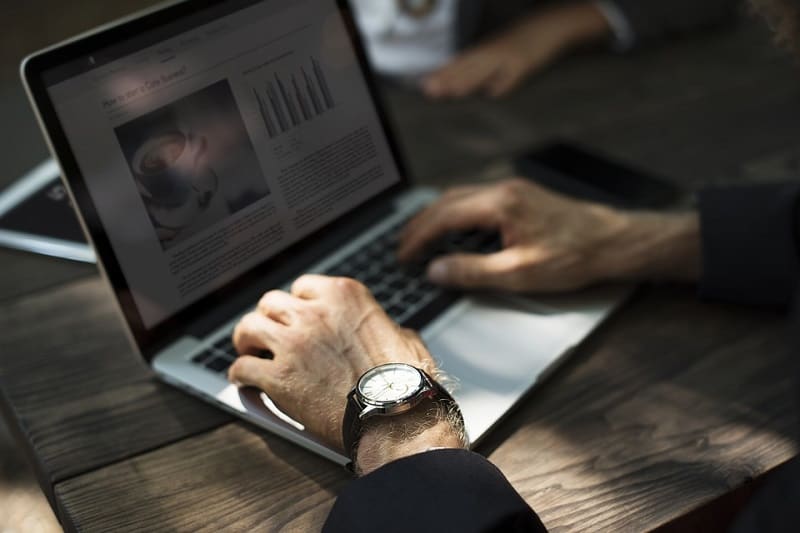 (Image Source: Pixabay)
With the right platform, the technical side of things "just work." You're able to focus on creating quality courses, marketing your online courses smartly, and managing your audience — all without you having to spend countless hours tinkering with integrations or dashboard settings.
While there are plenty of platforms available on the internet, in this guide, we're going to focus on three of the top ones:
All three of these are great options, but which one will work wonders for your business?
User Interface
As this is likely your first encounter with an eLearning platform, you'll want an easy-to-use and intuitive user interface.
There's nothing more frustrating than using a convoluted, overloaded user interface that assumes you will know what to do.
Thankfully, most eLearning user interfaces are super straightforward drag-and-drop affairs. However, some require a little training before use, while others make starting your own online course a breeze. All three of the platforms we're looking at today have done a great job of creating fairly intuitive back end tools.
When compared to other eLearning platforms, they've really done a good job of making life easy for you, which is why they're all so popular among people selling courses.
Are you ready to see more?
Podia
Podia's dashboard is quite easy to understand. Near the top-right section, you can click the "New Product" button, so you can start creating your course.
Podia then guides you by showing a pop-up prompting you to choose between three options: Online Course, Digital Download or Product Bundle.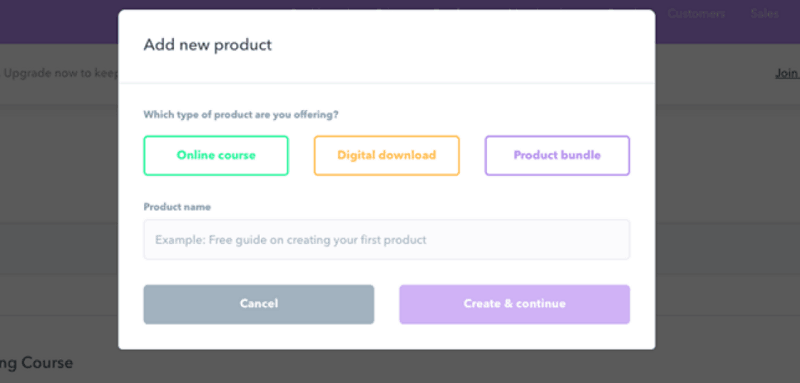 I clicked the "Online Course" option, added a sample title, and this is where the platform brought me.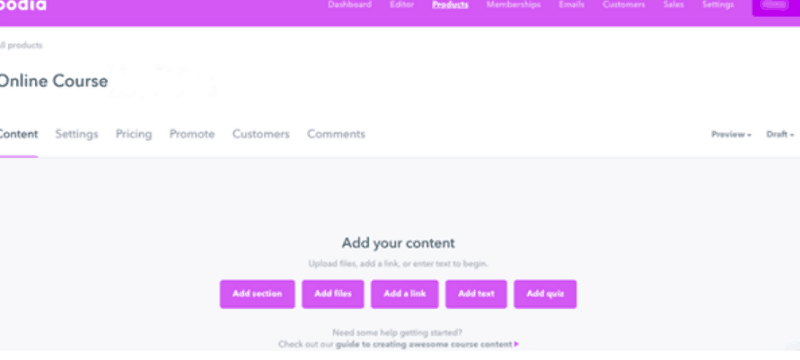 As you can see, everything looks A-OK. You can clearly see the type of content you can add, and the product builder menu up top offers these options: Content, Setting, Pricing, Promote, Customers, and Comments.
Kajabi
When you first log in to Kajabi, you are met with an extremely clean interface.
The primary navigation menu is located on the left-hand side of the screen, with the most common destinations.
The "Kajabi Assistant" search bar, pinned to the top of the screen, doesn't disappear on you as you scroll down. If you can't find what you're looking for, just type it into the search bar and follow the results.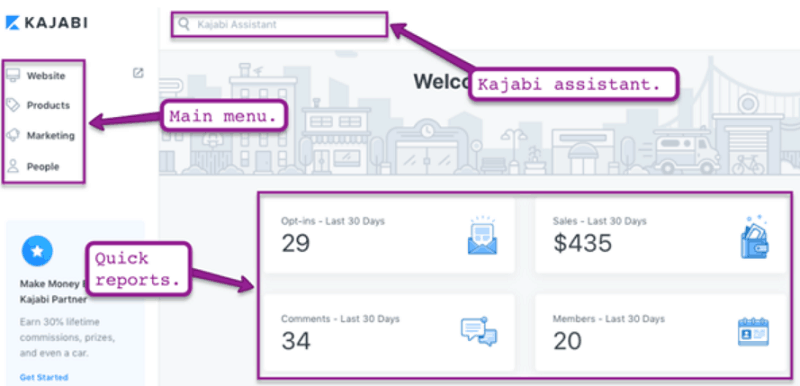 Your statistics concerning opt-in, sales, comments, and even new members are all available in one nice, easy-to-read location.
And, if you need a little help with the Kajabi website, course building, and/or navigation, the included guides can help answer all your questions (scroll down a bit to see them).
WP Courseware
The interface here is a little different from Kajabi and most other eLearning platforms, as it is a self-hosted plugin that you use within your WordPress website.
Basically, that means WP Courseware isn't an all-in-one solution that people can use to start an online course business. Their users need to have a WordPress website, and with that comes the cost of having to pay for themes, hosting, plugins, etc. — all of which can add up in the long run.
Once you've installed the WP Courseware plugin, you access it the same way you do other plugins inside of WordPress.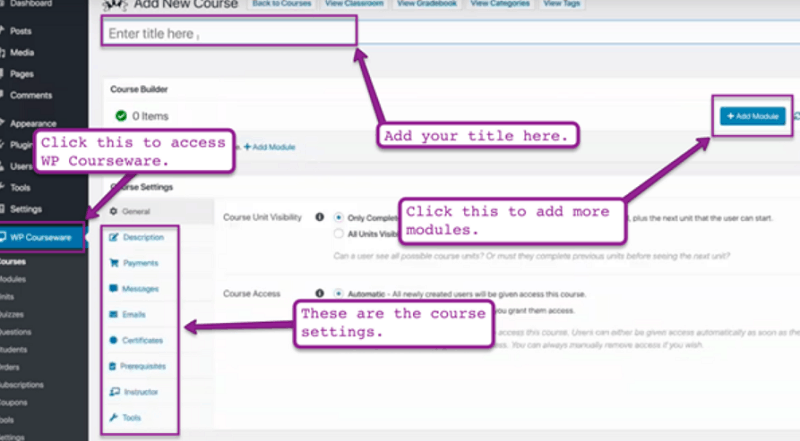 From there, you simply pick what you want to do, and start working from your selection. If you need help, you'll need to go to a different website.
As far as the user interface is concerned, if you're comfortable with WordPress, you'll be comfortable with WP Courseware.
Building Your Own Course
Now let's get into the "meat and potatoes" of these three eLearning platforms.
While the user interface is important, what's really important is how easy it is to create an online course for your audience.
Podia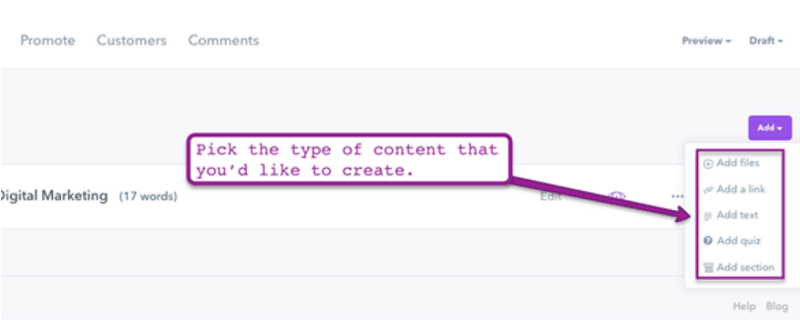 Podia offers an easy-to-use course builder.
To create a course through Podia, you click on Products and select Add Product. Then they'll ask you what you want to create, what you want to name it, and a brief description of the product and/or course.
After that, you'll simply add your questions, videos, training materials, and so on, until you are happy with the product. Then you'll give it a price and publish it so others can sign up for and/or purchase your course.
Kajabi
Creating a course using Kajabi is particularly easy because of their built-in "blueprints." These template-like frameworks help give you a starting point, so you don't need to come up with a structure from scratch and can focus on designing a great online course by plugging content into the provided slots.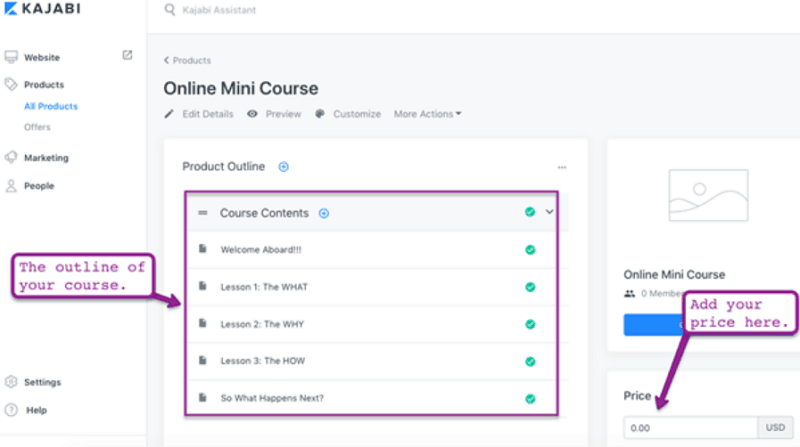 As you can see, the arrow is pointing to the pre-made blueprint for our online mini course. You can change any of these elements at any time, add more, and delete as needed. When you are finished, you can assign a price, as seen by the red arrow.
Kajabi makes light work out of large projects by including the blueprint feature.
WP Courseware
The verbiage that the developers of WP Courseware use to label their features can be understood easily. If you'd like to create a module, there is an "Add Module" button. If you want to edit the description of your course, there's a "Description" option in the "Course Settings" section. It doesn't get easier than that.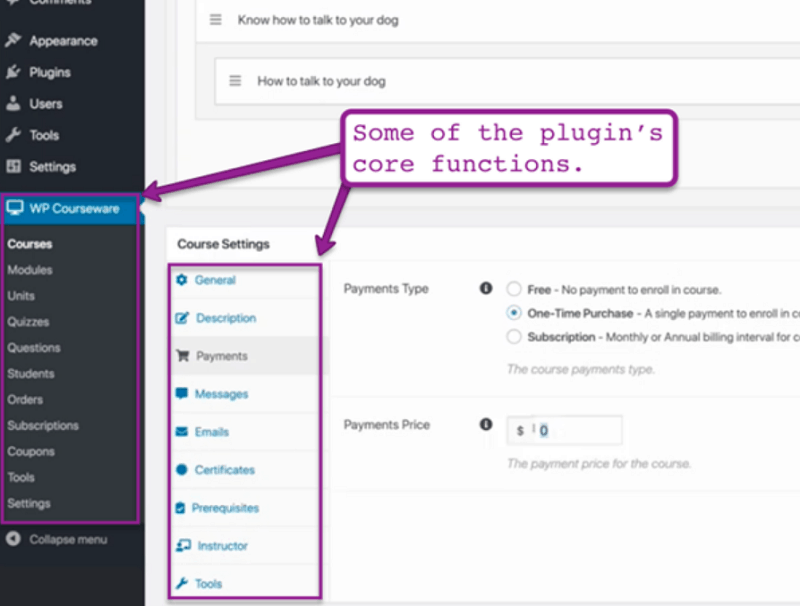 What's more, there are countless other things you can do within the platform to customize your courses, including:
Email delivery
Setting up payment gateways
Setting prerequisites to your modules
Managing instructor profiles
Building quizzes
And because these features' labels are very easy to understand, there isn't much confusion on the user's end when using the course builder.
Marketing
Creating top-quality courses and a great website experience for students, is is just half of the battle that you need to win if you want to succeed at growing an online course business. The other half is marketing.
If your online courses are poorly marketed, your courses, no matter how value-packed they are, will only be ignored.
When you think about how there are millions of content items published daily, it isn't hard to imagine that happening.
And so, let's check out the three platforms and see what kind of marketing firepower each has to offer course merchants.
Podia
The core marketing feature that Podia has is its email marketing engine.
After clicking the "Emails" menu, Podia will give you two options to choose from. You can either do a drip campaign or send one-off emails.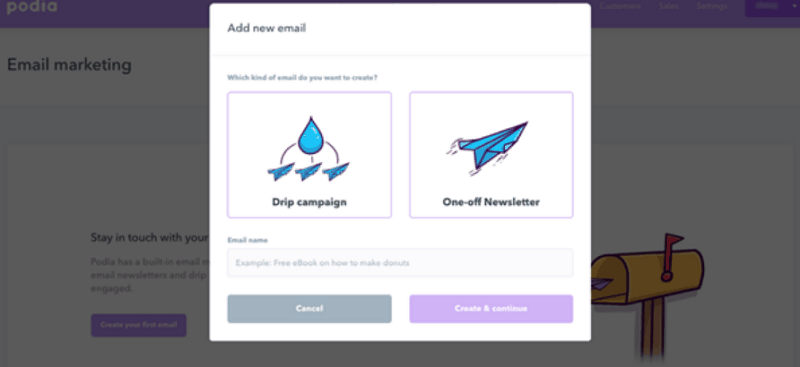 I tried creating a drip campaign. This is how their interface looks.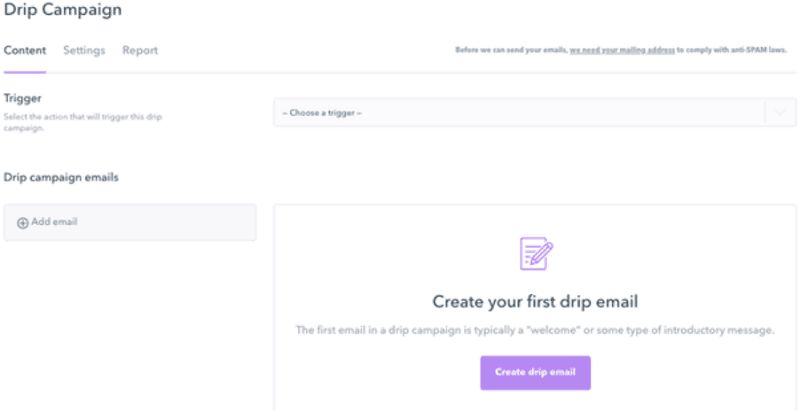 The feature is quite nifty and beautifully simple. And you can use it to send triggered emails, too, whereby a new sale or list subscription can set a message sequence into action.
Aside from its email marketing features, Podia doesn't seem to have any other major marketing features that they're offering to its users.
Kajabi
Kajabi has quite a lot of marketing features that you can tap. These are the features listed in their platform: Pipelines, Email Campaigns, Automations, Events, Forms.
Let's dive into two of its principal marketing features: the Pipelines, and Email Campaigns.
Pipelines are funnels that you can create so you can customize and automate your customers' sales journey by pre-making the funnel.
Here's an example of a pipeline for sending freebies.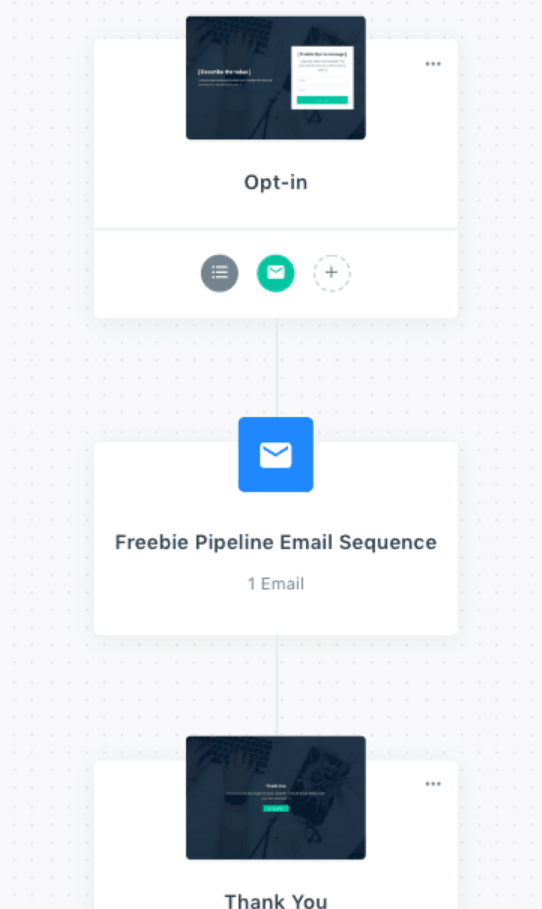 Their Email Campaign feature, on the other hand, despite how effective a marketing tool it is, is very easy to use. Kajabi will prompt you to choose from two types of email campaigns: an email broadcast, or an email sequence.
I ticked Email Sequence and this is where it brought me.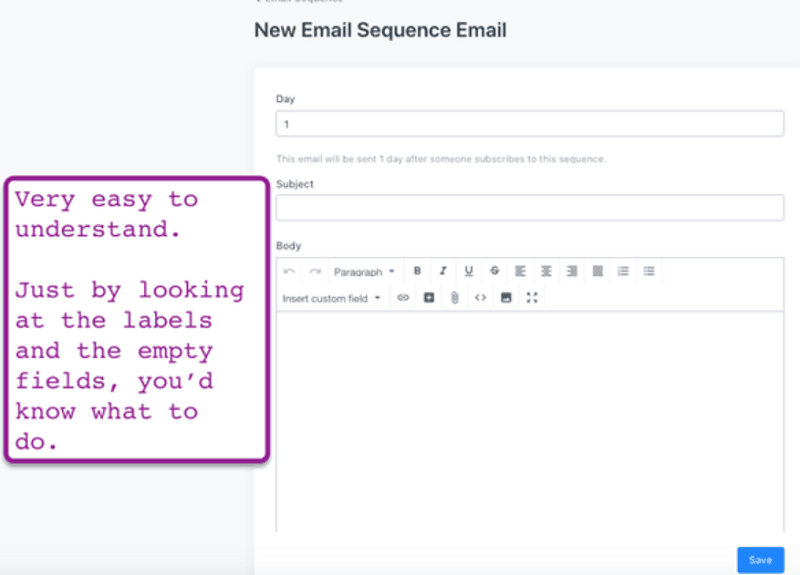 As you can see, the function is very easy to use. With this, you can start running your email marketing campaign without having to deal with an over-complicated and confusing interface.
Without going into all of the details, the other two modules work as follows. Forms allow you to create different versions of your lead capture mechanisms that will appear in different settings across your site, including your blog or landing pages, which can be focused around either specific products or specific timely promotions. And with Events, you can set up a webinar, or any other timely content delivery mechanism that is not monetized, allowing you to capture and nurture leads and maintain a healthy funnel flow.
By combining all of these features, you can create sophisticated set-it-and-forget-it marketing funnels that can bring you leads and sales 24/7.
WP Courseware
WP Courseware doesn't have much in the way of built-in marketing features to offer.
On the other hand, because the plugin runs in WordPress, you'll be able to market your online courses using other WordPress plugins. After all, this solution was never built to be an all-in-one.
The fact that there are countless WordPress plugins that can be installed to a WordPress site is a huge plus for people running an online course business using WP Courseware through WordPress.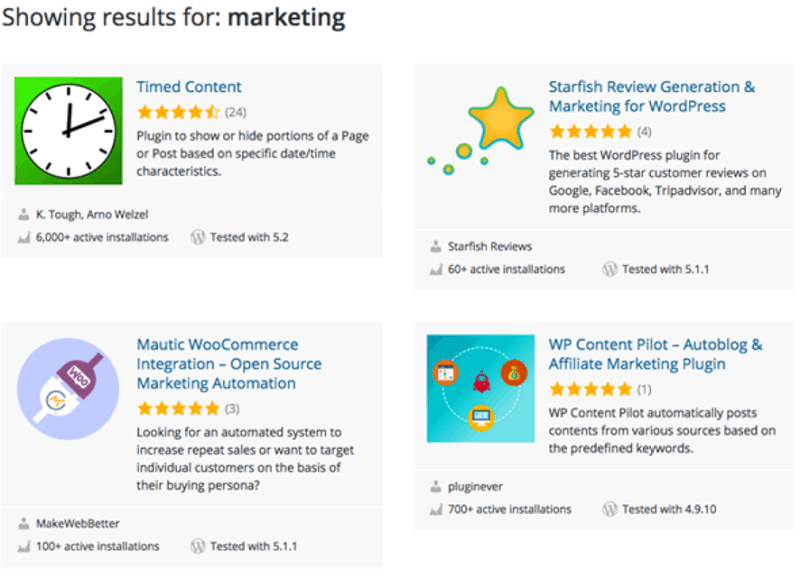 So if you go with this type of solution, you'll have a myriad of plugins to choose from when trying to market your courses. There are plugins designed to help WordPress website owners with SEO, social media marketing, email marketing, creating coupons, landing pages, analytics, and the list goes on. They don't all work spectacularly together, and some trial-and-error tinkering is always involved, but your options will be virtually limitless.
Price for Value
Of course, none of these eLearning platforms is free.
So, what are the costs associated with each platform? And which one provides the most value per dollar when it comes to features?
Podia
Podia offers two pricing tiers: $39 per month and $79 per month. Both are great options, but the $79 per month plans gives you access to embedded checkout options, affiliate tracking (big boost for sales) and even third-party tracking codes.
It's also worth pointing out that both their packages do not have any transaction fees.
You can view Podia's pricing packages here.
Kajabi
Kajabi has three pricing tiers: Basic for $119 per month, Growth for $159 per month, and Pro for $319 per month. The higher the tier you choose, the products you can create, admin users you can set, the more contacts you can add, etc.
A glaring aspect that Kajabi has over its competitors is its powerful marketing features. The platform's capability to create a premade marketing funnel to automate a good bit of its users' marketing campaigns is worth every dollar you spend.
Considering how your marketing campaigns can make or break your online courses business, you need to have a platform that can give you the marketing oomph your business needs. For more information, here's a link to Kajabi's pricing page.
WP Courseware
WP Courseware offers just one service tier, but they price it differently for different numbers of website licenses. Teacher, for two plugin installs, costs $129; Professor, for ten, costs $149; and Guru, for 25, costs $199.
While some eLearning merchants will want to build multi-site empires for resonating with different audiences, most are likely to want to start with one at a time, making the volume pricing less of a motivator. The fees are billed just once, but each license entitles the buyer to only one year of support and plugin updates.[Ritorno a capo del testo][Ritorno a capo del testo]Just remember that as discussed above, this isn't an all-in-one platform, so there are other expenses involved if you go this route.
The Verdict
All three platforms are great in their own right.
With the features they offer, their user-friendly interfaces, and their reasonable pricing packages, it isn't hard to see why the three companies are making waves in the eLearning scene.
However, in terms of offering an all-in-one solution to its users, Kajabi does have its advantages. Not only does Kajabi have a myriad of sophisticated tools for website creation, product creation, and audience management, but their marketing features are packed with functionalities that you need to be able to promote your business effectively.
Tags: eLearning, Kajabi, Podia, WP Courseware