Blog Engage $650 USD Guest Blogging Qualifying Article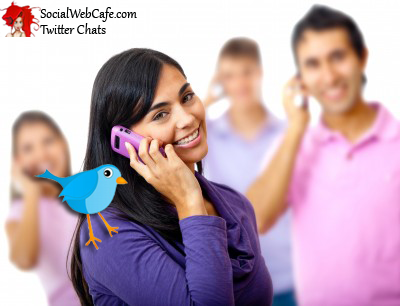 There are many benefits to using or participating in Twitter Chats. Those of you who know me, know that I love people. I also love to talk. My husband is relieved that I have used the skill of talking and applied it somewhere that gives him a break from my 80,000 words per day! Enter, the Twitter Chat.
Admittedly, I didn't come up with the concept. And, I certainly, by far, was not the first one or early adopter. However, I have seen the value of the Twitter Chat. In many ways, not only socially, but also branding, networking, and attracting traffic to your site or blog. Do these sound like valuable assets to have in your arsenal? And, if you love chatting, it is double blessing!
There are many tips that I could share with you, but I'm going to list three of them, here…
Pick the Topic and Time
Choose a topic that works for your brand. Some topics are obvious. If you run a web site about guest blogging, then a weekly Twitter Chat talking about guest blogging tips makes sense. If you are a bunch of musicians who also get together periodically through the year and love to share music promotion tips for Indie artists. Then, you have a weekly topic, built-in.
For some companies it may be more challenging. If you sell coffee, there may only be so many things that you can discuss about coffee each week. However, that doesn't stop you from building up a following of like-minded people who want to chat each week, or partnering with another company for a weekly chat topic, or even sponsoring a Twitter Chat and gaining exposure there. It may be a little more challenging to build up that group of like-minded people, but once you accomplish it, you may find that they have actually become more cohesive in their relationships and you benefit because now the participants look forward to getting together, regardless of the topic, and your brand or service may become a subtle "obvious" when it comes to that product (i.e. coffee).
The time is important, as well. You may want to consider your largest target group and pick a time that is conducive to that group. I participate in global Twitter Chats, and they are quite a bit of fun, especially because you can get such a variety of viewpoints and perspectives and it adds to the quality of the interaction. You do not need to be limited or feel constrained when it comes to time zones, as many of us, for the right chat, would change our own sleeping habits! However, you would not want to schedule it for a time that works for one person while 1000 people do not attend the chat because of the time. Simply good business sense, eh?
Get the Buzz Going!
The more that you can talk about the wonderful Twitter Chat that you will be running, the better! Get that buzz going. Tweet it out like there is no tomorrow. Maybe you want to have some Skype calls with some key networkers who could help you get the word out. It always helps to have someone else recommending your Twitter Chat, as well.
And don't forget to add it to your site, and especially your Twitter profile.
Write blog articles on the Twitter Chat and highlight the benefits of the Twitter Chat for your participants. Give bonuses for people who participate. Give them shout-outs throughout the week on Twitter. For those die-hard participants, write a blog post about how awesome they are and their service. Feature one of their articles or run a banner ad on your site. There are so many ways you can reward people and get them excited about your Twitter Chat even before it occurs. And, even if that first chat is a flop, don't give up! Ask your associates and friends how you can make it better. Run a contest, or a survey on what people would like to chat about. Keep that momentum and positive energy going!
Summarize and Entice
When you have completed the Twitter Chat for that week, first, remind yourself that it was a success. Keep that "cup half full" mentality going, even if you were the only one who attended. It is still an opportunity to improve. Think how easy it is to improve if you only have one attendee… Add one person and you have doubled your attendance! Seriously, don't give up! Believe in yourself and it will become contagious.
So now that you are thinking positively about your first Twitter Chat, get that summary going. Write about what was discussed. If there was not a lot of chatter, write about what will be discussed next week. Summarize the key points and post them as soon as you can, to get the word out. This helps to create a feeling of "What did I miss?" so that people want to attend the next Twitter Chat. It also helps those regular attenders to feel like they are still in the loop even if they were unable to attend that week. And, there are many perks that you can throw into those summaries and archives.
For an example of an archive, using Storify, check out #MyBlogGuest Twitter Archive to get an idea of what I am talking about here.
There are so many ideas on how weekly Twitter Chats can help you and how you can facilitate successful Twitter Chat hook-ups that will benefit your brand, blogs, and web sites. It just doesn't all fit into one article, so it will have to wait for the next article, or a Twitter Chat on Twitter Chats!
Deborah has used social media extensively to help propel her to top of the charts on Reverbnation, as a Jazz Singer in Los Angeles. Now she is here to offer help to others, sharing tips along the way, including hosting successful Twitter Chats. SocialWebCafe.com : "because the web should be fun!"
Tags: archive, blogging, Branding, networking, Promotion, social media, Traffic, twitter chat