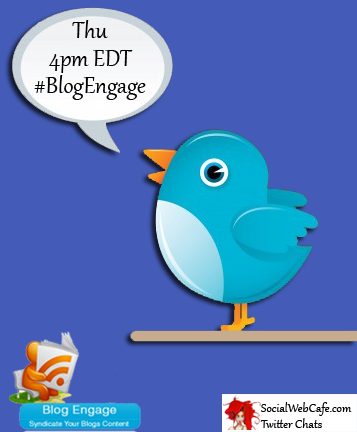 Our First Twitter Chat
Ready for it? Our first #BlogEngage Twitter Chat will be happening THIS Thursday (6/7) at 4p EDT.
Wondering what time it is in your part of the globe? Check out the World Clock to find the right time in your time zone. Keep in mind that the time is currently based on Daylight Savings Time in North America, which means the chat is currently taking place at GMT -4 hours.
We have set up an event page at Twebevent: #BlogEngage and this page also will show updates, planned topics, questions, etc. for upcoming #BlogEngage Twitter Chats (weekly @ Thu, 4p EDT).
We have four awesome BlogEngagers on our Blogger Panel for this Thursday. They will be sharing tips on how they use BlogEnage to help their blogging and business, and, all 'round blog chatting.
Our First Blogger Panel
Justin (aka Dragon Blogger)

Justin is an IT Manager who loves his day job and is a part-time blogger at night and on weekends. He has worked in Technology and Computers for the past 11 years of his life, and has specialized in Identity and Access Management Technologies for a Fortune 100 Bank for the past five years. He translated his love of IT to create a Technology blog that ranks among the top 15k websites in the United States and reached more than 1/3 of a million people in the last year.
---
Morgan Barnhart, Social Boost

Morgan is a Social Media Coach & Educator who consults and coaches small businesses with their social media strategies. The business may be new, but she is no stranger to social media marketing. She has been helping businesses stay social for the past 11+ years. She's worked with and helped establish major social media campaigns, trained social media staff for fortune 500 companies, and assisted many small businesses in getting their start in social media. Her blog is here to bring new views and opinions on the general state of the social media world, in order to help people have a better, more SOCIABLE, experience. Social media doesn't have to be a daunting experience! Morgan is there every step of the way.
---
Tristan, The Backlight

Tristan has been blogging for 9+ years and currently earns a full-time living from his various blogs, ebooks, and other online ventures. He specializes in ebook creation and making blogs interesting and worth reading. He currently runs an independent digital publishing company called Long Range Media, and blogs about all aspects of digital publishing at The Backlight. He is also an avid wanderer and traveler, and addicted to establishing new rock climbs in the mountains surrounding his current home of Salt Lake City, Utah.
Looking forward to seeing (reading) you there!
Deborah has used social media extensively to help propel her to top of the charts on Reverbnation, as a Jazz Singer in Los Angeles. Now she is here to offer help to others, sharing tips along the way, including hosting successful Twitter Chats. SocialWebCafe.com : "because the web should be fun!"
Tags: blogengage, blogger panel, DragonBlogger, Ileane, morganb, TristanH, twitter, twitter chat