Blog Engage $500 USD Guest Blogging Qualifying Article
Love: BEEP BEEPBEEP BEEP!!! 4 pm sharp at CUCKOO'S COFFEE SHOP displays my mobile's message screen. Shit what the F man how could I… Banged my laptop screen, immediately jumped out of my couch to get dressed for a perfect date planned by my girlfriend my hottieee. Got the best dress from my wardrobe of her's choice & wore the perfume which she loves the most. Threw my laptop on the rear seat of my car, finally I was on my way to meet MY PRINCESS.
Health: All the way my tummy's peristaltic movements reminded me of the three chapattis (A form of bread) soaked in homemade ghee with gravy (Oh I love it a lot!) which my mommy made for lunch…. Duh…. her son works so hard 24/7 sitting in front of the laptop or studying in the university. In this entire scenario my tummy is bulging out, what a tough time it is giving to my pants' belt right now. Ask me God damn it!!!
Blogging: At the same time my mobile SMS alerts told me about the comments by other bloggers over the latest post I published at Freakify. YUPPIEEE!!! it seems that people really liked it. BRAVO billoo(My Nickname) you nailed it again… I patted my back with a conquering smile. I parked my car right outside the coffee shop. Ahhh!!! Finally I was there, gave a final touch up with a spray of mouth freshener & moved inside the coffee shop.
Love: OMG!!! She was looking so pretty complimented with a cute frown on her face. It seemed like an icing on the cake as I was late like always. Giving me tough looks she quickly placed the order. I started off the conversation with the cheapest tool… Yes!!! I started praising her beauty which has been the same since the last two years. That really didn't worked & she kept starring with a killing look. Finally, I asked what happened? Then she started beep beep beep (Censored).
Study: My poor soul's remand was not yet over when my message tune rang. Trembling out of utter nervousness I put a glance, my eyes bulged out LAB EVALUATION plus ASSIGNMENT of 13 long numerical problems.
Freelancing: SHIT MAN CRAP!!! Gave a face palm, took gulp of water. That hardly had relieved me when there started an unending series of phone rings. Man how can I be such a fool??? My client pissed me off for not making his so called "ONE LAST FINAL CHANGE suggested by his aunt's cousin's niece"  in his webpage that I was hired to design.
YES!!! I was in a mess & f'ed up everything.
 Issues to be Dealt
Love: Girls are truly gifted with sharp senses, yes she caught me. They can tolerate everything but not ignorance. She did the same, off she went with loads of grumbling & poor I was left helpless with a heavy unpaid bill. All the people around eyeing at me could do nothing other than to feel sorry.
I am not the only one who has experienced this, I am sure my story narrates a lot of other poor souls like me (Bloggers & Freelancers + Students ). The bitter reality is that, to cope with all three of them, i.e. BLOGGING, STUDIES & LOVE, is a full time job. Each one of them is so cruel, giving no room for compromise.
Your users will divert to a new blog not finding good content, your grades deteriorate & yes your girlfriend will leave you. In such harsh conditions it is very difficult to maintain a balance. Especially at graduation level when you have to become a responsible person. Sometimes it becomes even more adverse.
 For a person like me & many others studies are a necessary evil, blogging is a passion whereas love is umm…a MUST!
Sometimes your passion over rules everything & you become neglectful. You stay awake for nights making your blog more progressive but next morning you keep sleeping like hell, missing your regular lectures; if by chance you manage to get to the classroom you sleep there with open eyes. Or considering yourself the luckiest in terms of not sleeping then your girlfriend is there to make you busy by send text messages during class.  At this stage your poor soul is brutally raped at the hands of every single person who calls to be your "Well-Wisher".

At times it happens that you are busy with creating some new post & your girlfriend interrupts your work, as in she wants some of your time. She dedicates her time fully in talking to you while you are busy with your work. The repercussions are that you reply late, where she gets irritated. Finally you end up in a fight because waiting so long for your reply was very torturous for her. Next morning you will have to plead to cheer her, making up her mood or compensating it with a date which I always fail to.
Life of a Blogger: I mean its me who is making my soul suffer. Yes, I want to tell you I feel sorry for you my dear soul. I am the one who is being harsh on you since my childhood, when I left playing computer games like other kids & pounced in the world of blogging full of zeal & zest. But I know for you it was all fuss. It might have been thinking a lot about a thing I would like to mention.
What a great life it would be if I was the part of a lazy bluffer, Ahmad has so much to do in a complete day, I quit I can't take it anymore

-Poor Soul Of Ahmad Awais
Conclusion; if it exists

 
I must say in all such circumstances the best treat will be if you find
A supportive girlfriend who understands you, your work & cares about you.
Affectionate parents who should be a little kind towards their child's passion.
Yes compromising Blogging Team, which can share your work load at times. Making your blog more viral & worthy for readers.
At the same time your devilish teachers always ready to suck every drop of your blood flunking you in a blink of an eye, should show little leniency understanding a blogger's life.
Solution: The best solution is to maintain a balance between everything. Plus you should possess clever dodging tricks which you can apply to your girlfriend, teachers & clients in case they make your life HELL!!! Try doing things at appropriate times systematically because EXCESS OF ANYTHING IS BAD.
What I do? What I suggest!
I have a philosophy of one word, most of you have heard about it, but being a blogger I have seen very less quantity of bloggers, who understand it. The word is FOCUS! Yes it seems a simple word, apply it in your life if you are like me, if you have to maintain your blog, your family/GF/fiancee, your studies/business & sports. Divide everything, make lists, & schedule yourself. But when you blog, sign out of every Social Network. I have to manage all these things, it seems like hell of a job. I know a lot of bloggers are working in a very similar way. Life becomes mess sometimes, but you have to keep a good pace with things to be successful. So, what I normally do? How do I manage these things ?
For Mobile
Normally I use my Android Cell phone (HTC Desire HD) to manage things for me, in it I mostly use Color Notes App, its one of they great Apps in Androids.
For Laptop/PC
Where as in case of my Lappy (Laptop, can't help writing it what I call it
) , I use 7 Sticky Notes to make schedules etc.
By the arrow heads you can see everything going on the laptop screen, some arrows point towards blogging related things, others go for lab assignments i.e. studies, providing support over Team Viewer to clients & chatting with my fiancee on Skype Arghh!!! Fed up! Almost half of the bloggers remain that busy. Sometimes bad things happen, sometimes they turn good onto you. Your love life ends or you get a failure in studies, but there must be at-least one thing where you should succeed.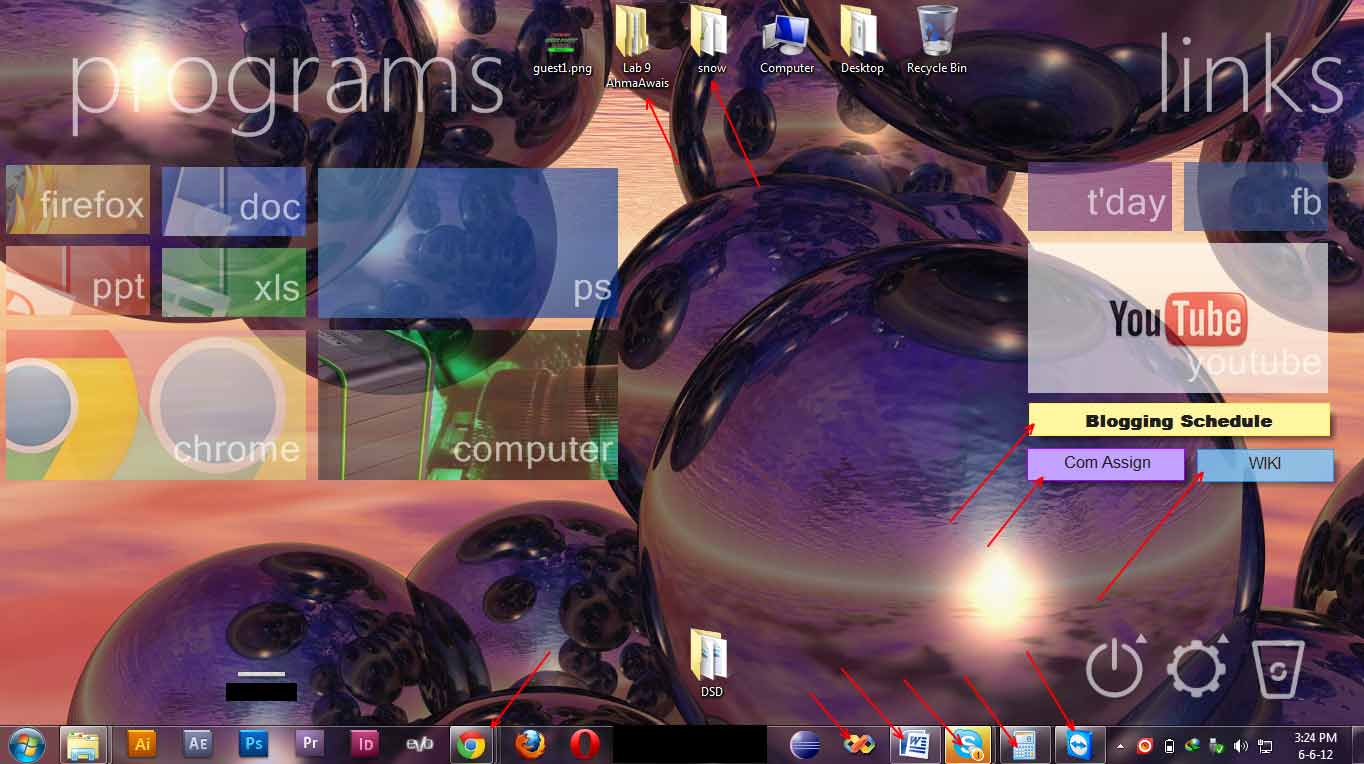 Your Turn:
Yes I will leave this article in the middle of no where, I don't have any better thoughts about how to end this article.
There are hardly any existing solutions ! You got one? Tell me! Tell All !
Are you facing the same issues which I do? Atleast some ? What do you expect ?
Have you sacrificed something in your life for blogging ? If so then what?
She:   LOLx Leave it HEHHE
Me: Look she is here writing within my article :S
She:  YeSS  Team Viewer Rocks  :) hehehehe !
Me: Gotta go guys
She: will yOU sTOP iT nOw 
Me: coming I said :S
I have been designing web pages since the early days of tables and spacers. And No – I've never used the scrolling marquee with Comic Sans fonts :P. Well, I am doing Electrical Engineering, but web development is the area of my deep interest. I can speak a lot of languages like HTML, CSS, PHP, Assembly, C, C++(OOP), Visual Basic, Verilog, and MySQL etc. Personally I love to blog & like tablets having Android OS in them.When not on the computer, I enjoy spending time with my family & Friends, taking pictures and drinking strong coffee. I blog at Freakify.com . Connect With Ahmad Awais on Google+, Facebook and Twitter.