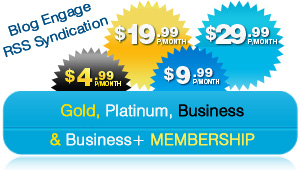 Blog Engage is one of the most engaging online interactive blogging communities on the net. Those of us that were lucky to join when the community was free engage daily without second thought that many bloggers online today cannot afford a $29.99 blog engage account.
This is where you come in, if your a blog engage member I want to invite you to give away free accounts to your blog readers (Valued at $29.99)
The process is extremely easy for you as a blogger and will be sponsored and promoted by Blog Engage. I will allow you to host a contest on your blog giving away 5 free Blog Engage accounts ($29.99 value Each) and 1 free year of our gold membership Services ($59.88 Value).
If this is something your interested in doing then please contact me for more details. If you agree then you simply go to your blog, write an article explaining the contest details and awards. Let your readers know how much you love being part of Blog Engage and how much they could benefit from being a member.
Blog Engage Currently Active Contests (Updated 01/09/2012)
#1. Win Free Traffic and Backlink of the Year 2011 With Blog Engage
#2. January 2012 Blog Engage Contest Giveaway
#3. New Year Giveaway : 5 Blog Engage accounts and 1 year Gold membership
#4. Win Free Traffic And Backlinks To Your Blog With The 2012 Blog Engage Contest
#5. GIVEAWAY: Win a Blog Engage Account (up to $89 value!)
#6. Blog Engage – Share, Engage, Drive Traffic and Grow Your Blog
#7. Giveaway: Get Free Blogengage Account Worth $89
#8. Who Wants a Free Blog Engage Account?
#9. Win Free Blog Traffic With Blog Engage
#10. Blog Engage Membership Giveaway on Basic Blog Tips
#11. Start 2012 with a free blog engage account!
#12. 3 Blogengage Accounts Up For Grabs!
#13. GIVEAWAY: 5 Blog Engage Membership Giveaway on Explore Feed
#14. The All New Blog Engage Plus Win Free Membership
#15. Blog Engage Goodies to Give Away!
#16. Blog Engage Membership Giveaway with ICCIEV
Blog Engage Free Account Giveaway Images
The point of this contest is to help engage with your readers and encourage new comments, rss subscribers and overall traffic to your blog. If you host a contest we will share your contest with all our new visits by linking your articles from our contests page found on our Blog Engage register page.
You can award users from following your blog on Facebook, following you on twitter, tweeting you content post or even leaving a comment on your blog. I'm giving you all the power to manage this contest but I'm also here if you need help doing it.
Be sure to add me as a friend, bbrian017
Twitter, bbrian017
Tags: free accounts, giveaway