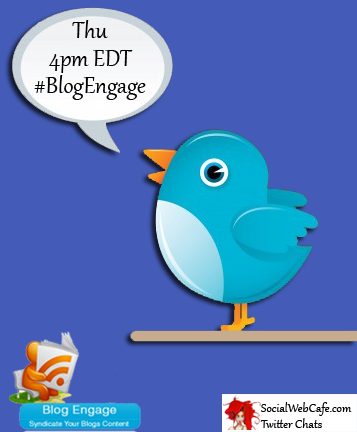 Awesome Kick-Off!
Our first #BlogEngage Twitter Chat was incredibly awesome! It was great to "see" all of you and to have such an engaging session of meaningful, valuable chatter! Our blogger panel was awesome, as well. Thanks, Justin (aka Dragonblogger), Morgan, and Tristan. And, of course, Brian! To read more about our incredible blogger panel, read this article.
Did you miss the chat? Hey, join us next week, same time, same place, Thursday, at 4p EDT. For more information, visit #BlogEngage Twitter Chat. And, come check out the play-by-play slideshow / transcript / archive, below.
We had several conversations going on at the same time and it was a bit fun to jump into various convos and learn all kinds of new things. For me, it made me hungry to learn more and discuss even more ideas and topics! How about you? We will have a bit more structure in the future Twitter Chats with Q&A. Similar to other chats where a tweet goes out with Q1 and the question and we can tweet A1 and chat about the topic. That way, no one will feel like they are missing out on anything. But, hey, you don't have to worry about all that right now. There is an info page set up here where you can check for upcoming topics and guests, and questions for the upcoming chat(s). The chat will continue, weekly, on Thu at 4p EDT.
We Broke Storify
We were such an awesome group of chatting bloggers that I think we overloaded Storify last night! It was acting a bit funky as I was preparing the transcript/archive. No worries. It was a bit slow, but we were working, working… Then, all pages were 404 errors! The storify site was technically there, but the pages were all 404. Luckily, and thankfully, our archive was still there. So, if you are viewing the slideshow, below, and you don't see one of your tweets there, you know why it went "poof." Drop a comment, below, and every attempt will be made to fix it for you 😉
Next Week, June 14, 2012
We have more special panel guests joining us next week:
Ann Smarty of MyBlogGuest. Ann is an incredible writer and her articles always provide new and in-depth information and she is an expert at research and providing it to the reader in a way that enhances the reader's learning experience. She has written more articles than can be counted, on such web sites as Mashable and Social Media Examiner to name just a couple. She is a member of BlogEngage and I have barely scratched the surface in introducing her, so if you haven't met Ann, you will have the opportunity next week, at the #BlogEngage Twitter Chat.
We also have John Paul Agular, Blogging Entrepreneur. John Paul understands what it is like to start out, and how to succeed! He has been there and is a source of helpful information for you to learn how to move forward, in success, with your blog. He offers a great course (free), called Social Blogging Entrepreneur Course to do just that, pointing you in the right direction. Haven't met John Paul Agular, of the "Money Dummy Blog," yet? Well, you will meet him, next week on the #BlogEngage Twitter Chat.
Hook up with the BlogEngage community at 4p EDT, on Twitter (TweetChat.com) with the hashtag #BlogEngage. See you there!


Textual Version
Deborah has used social media extensively to help propel her to top of the charts on Reverbnation, as a Jazz Singer in Los Angeles. Now she is here to offer help to others, sharing tips along the way, including hosting successful Twitter Chats. SocialWebCafe.com : "because the web should be fun!"
Tags: Ann Smarty, Branding, chat, community, DragonBlogger, morganb, TristanH, twitter chat