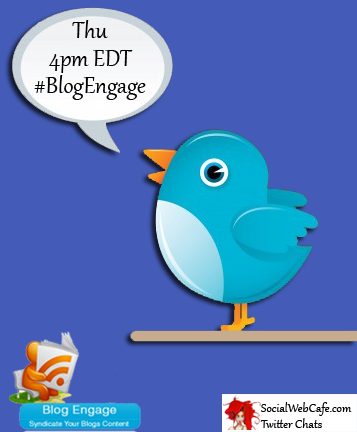 Hi everyone, to help keep our Thursday Twitter chat's more organized I thought it would be a great idea to start doing a #BlogEngage Pre Twitter Chat post every Tuesday for what will be discussing.
I'm very excited to announce we will be featuring some of our very own Blog Engage members. Together we will discuss topics and issues bloggers face today and some of the challenges we all have to overcome. We can talk about marketing and backlinking strategies, WordPress Plugins, Support and other great topics that are important to us as bloggers.
The main theme for each week will be dependent on who our guest is and what area their expertise are in. This week we have some great questions, I hope to see everyone joining us it's always a blast and I look forward to our #BlogEngage discussions.
This Thursday we will be discussing the benefits of Affiliate Lights. I've tried my hardest to build an affiliate program that provided the best return for it's members. Have you joined the program? Have you had success selling our RSS Services? Is it something you will consider now that your aware Blog Engage offers this affiliate program? I will answer any questions you have regarding the program and it's commission structures.
Next Chat: August 23rd (4p EDT)
Our Topic: Benefits of Affiliate Lights
Questions
Q1 Are you using Affiliate Lights right now to generate extra blog income?
Q2 Do you understand the potential of recurring commissions on affiliate sales?
Q3 If the program was to add new products what would you be interested in?
Q4 Now that you have heard about the program will you be signing up?
Did you miss the chat? Hey, join us next time, same time, same place, Thursday, at 4p EDT. For more information, visit #BlogEngage Twitter Chat.
Tags: affiliate lights, blog engage, twitter chat